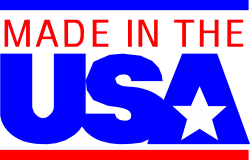 A trolling bar allows the positioning of downrigger's, rod holders and other accessories to be strategically located across the transom. Also adds freeboard depth to shallow boats for added safety.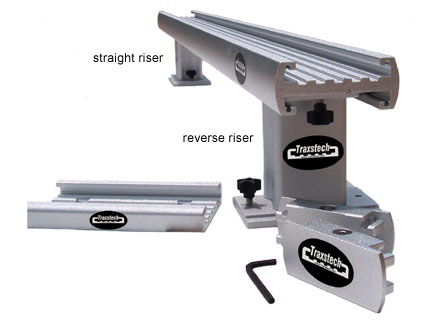 With this bar's Super Duty design and grooved bottom interior you won't have a worry in the world about how secure your equipment is in this system. With these added features Traxstech continually strives to bring their fellow fisherman the best equipment available at an affordable price without sacrificing quality.
Trolling bar is 8' long. Other lengths available upon request.
It is recommended that the bar be approx. 2" less than the beam of the boat to allow some room between the end of the bar & the side of the boat, especially dockside when the boat tips during boarding.
Features:
| | |
| --- | --- |
| | Anodized aluminum mounting track with a grooved bottom design |
| | Generally used for mounting across the transom |
| | The bar can be cut to different lengths to allow for a greater flexibility across the transom or along the gunwale |
| | Contact us for more creative ideas |
| | Available with straight risers or reverse risers (base is rotated 90 degrees) |
Includes:
| | |
| --- | --- |
| | Can be ordered with two 6", 24", 36", OR 48" mounting tracks. (Longer tracks can be mounted on the gunwales starting at the transom. The trolling bar is mounted at the rear of the track & rod holders and/or other accessories can be mounted on these tracks. |
| | Two 4 1/2" risers, either straight or reverse. (Reverse are used when the risers are put into the transom end of mounting tracks that are on the gunwales & the bar goes across the transom.) |
| | Two 4' sections with connecting plate |
| | Two bar end caps |
Shorter lengths can be ordered. There is a $20 cut charge for custom lengths. Click here to order a custom length.
Separate 4.5" & 6" risers sold below. Downrigger bases (set & swivel) sold separately.
If your boat has a thin hull, a backing plate is recommended to distribute the weight to protect the boat from damage. Check the underside of your transom or gunwale to see if it is thin or already reinforced. If it is not reinforced, a backing plate should be used.
Also available in black or titanium for an additional cost (approx. 10%). Please contact us for price & availability.
Drop shipped from Traxstech via UPS
Trolling Bar w/Straight Risers & 6" Tracks


SALE


$

459.99

$423.19
DRB-8
Trolling Bar w/Reverse Risers & 6" Tracks
(Gunwale mounting/bar across transom)


SALE


$

479.99

$441.19
DRBR-8-6

Trolling Bar w/Reverse Risers & 12" Tracks
(Gunwale mounting/bar across transom)


SALE


$

499.99

$459.99
DRBR-8-12

Trolling Bar w/Reverse Risers & 18" Tracks
(Gunwale mounting/bar across transom)


SALE


$515.99 $474.71
DRBR-8-18

Trolling Bar w/Reverse Risers & 24" Tracks
(Gunwale mounting/bar across transom)


SALE


$535.99 $493.11
DRBR-8-24

Trolling Bar w/Reverse Risers & 36" Tracks
(Gunwale mounting/bar across transom)


SALE


$571.99 $526.23
DRBR-8-36

Trolling Bar w/Reverse Risers & 48" Tracks
(Gunwale mounting/bar across transom)
SALE
$607.99 $559.35

DRBR-8-48

Trolling Bar w/Reverse Risers & 60" Tracks
(Gunwale mounting/bar across transom)
SALE
$689.99 $634.79
DRBR-8-60