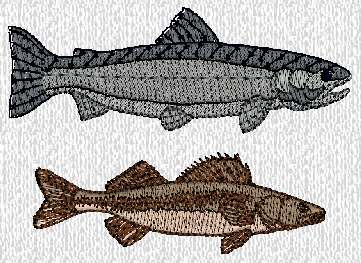 Currently Out of Stock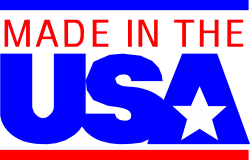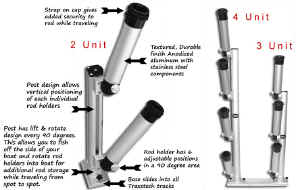 Features:
| | |
| --- | --- |
| | Strap on cap gives added security to rod while traveling |
| | Post design allows vertical positioning of each individual rod holder |
| | Post has lift & rotate design every 90 degrees. This allows you to fish off the side of your boat and rotate rod holders into boat for additional rod storage while traveling from spot to spot. |
| | Textured, durable finish anodized aluminum with stainless steel components |
| | Rod holder has 6 adjustable positions in a 90 degree area |
| | Base slides into all Traxstech tracks |
| | Available with 2 rod holders, 3 rod holders & 4 rod holders |
If you are going to use your 6", 12", or 18" track with a downrigger or a trolling bar & your boat has a thin hull, a backing plate is recommended to distribute the weight to protect the boat from damage. Check the underside of your gunwale or transom to see if it is thin or already reinforced. If it is not reinforced, a backing plate should be used.
Also available in black or titanium for an additional cost (approx. 10%). Please contact us for price & availability.
VBT-X, VBT-10
Drop shipped from Traxstech via UPS
SALE

2 Rod Holders $

257.99

237.35


3 Rod Holders $

329.99

303.59


4 Rod Holders $

419.99

3

86.39

Quantity
:
Number of Rod Holders
:
Shipping Method
:

SALE


Additional Rod Holder for Bird Tree


$87.99

80.95


Quantity
:
Shipping Method
: